3 Reasons to Invest in Personalized Branding
By: Morgan Edwards
A brand logo is more than a pretty picture. It communicates your business, its quality and its values. That little logo has big legs. It will appear on social media, business cards, t-shirts, new business decks, advertising and more. A logo is one of the first visual pieces of the business puzzle. It's one of the first things potential clients or customers will see.
The importance of a well-designed, custom logo goes beyond words—literally. Research shows 75% of consumers can recognize a brand by its unique logo. And that's why it is crucial to ensure your logo is a good one, not a stock solution.
Here are 3 reasons why it's important to invest in a logo that fits your brand, its messaging and values.
Your logo is your first impression
When clicking on a website or walking into an office building or storefront, a logo is often the first piece of branded material that a potential customer sees. For websites, research shows web visitors form an opinion about the website they are visiting within the first 0.05 seconds. This includes the logo and branding associated with it.
A good logo can also answer questions before they're even asked. It can demonstrate a product, service or even company values. Personalized elements are hard to come by while browsing stock logo options. So, it's crucial to create a truly custom logo that represents your brand accurately. There are no second chances at a first impression; with a well-designed logo, your brand won't need one.
Logos also build brand awareness & trust
Keeping a brand top of mind is critical to sales revenue. Even if consumers are not ready to make a purchase at the time they see your branding, it's important that the branding be memorable for when they do. Research shows that it takes 5-7 logo impressions for it to be remembered, and 73% of buyers purchase from brands of which they are already aware.
Brand awareness and trust across all platforms are often built with consistency. A proper logo and branding can bridge the experience a customer has online with one they have in person and can be key to making your brand stand out. 80% of consumers recognize a brand based on the use of a signature color or colors. A logo that includes the right font, colors and messages that can capture the uniqueness of your brand cannot be found in a stock option.
A quality logo separates you from the competition
Beyond brand awareness, a well-designed, recognizable, versatile logo differentiates your brand from its competitors. When a similar service can be provided by multiple brands, part of the decision-making process comes down to trust. And as noted, trust is earned through consistent branding.
A stock logo won't communicate your brand values and the aspects that differentiate you from those competitors. Branding is an investment in the future of your business. By working with a professional to design your logo and branding, you can ensure your logo tells the right story to the right people and can build awareness and a reputation for years to come.
See how Catch-22 Creative has developed unique branding for clients like Trade Fixtures, Retail Space Solutions and CornerStone One.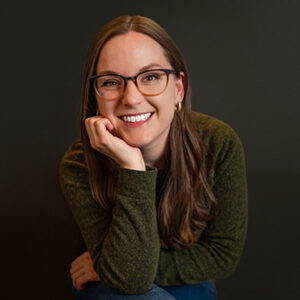 About the Author:
Morgan is Senior Designer for Catch-22 Creative. After receiving her BFA from UW-Stevens Point, multiple internships, and years of print design experience, she began her graphic design position at C-22. Morgan has spent 6 years with the company working on various projects, including print collateral, digital design, and instructional e-learning graphics. Whether designing a business card or an online training, she consistently creates on-brand, engaging visuals that meet our client's needs.
Outside of design, she enjoys using her creativity for other activities, like a relaxing craft day or trying out a new recipe she found on Instagram. She is always up for a long hike, bike ride, or kayaking down the Milwaukee River. When she's not doing any of those things, you'll most likely find her binging her latest true crime show or podcast.
share